Human - Musician - Mosaicist
Welcome
on my website. I am happy to introduce you to my
new instrumental guitar album "Indigo"
. After a long break from my music and some difficult life experiences, I was finally able to happily return to the sounds and moods of
guitar music
, which has been a strong influence and companion throughout my life.
"Indigo" was my introduction to the world of
instrumental guitar music
. We already played the tune at the beginning of the seventies with the first "blonker" group, to later be published in 1978 on the album "Die Zeit steht still" (time stands still). Please click on
www.blonker.de
if you wish to learn more about this time.
...and now - 40 years later - "Indigo", "Sidewalk Café", "Amazonas" and many other of my pieces are still heard and being played on the radio,
...now I took the pleasure to rekindle
"Indigo" in a new version
and twelve other guitar pieces on a new album, this time bearing my name. I am very happy about this, listen for yourself!
You will find short mp3 samples from the "Indigo" album in the list of the Meine Musik page.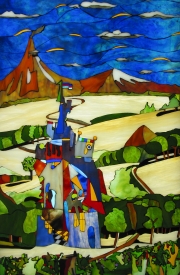 glass picture
"The blue castle"
Signierte CDs - Autographed CDs
Here on this webpage I only offer CDs autographed by me. Otherwise you may order the
album "Indigo"
from
Amazon Germany
or download it from
iTunes
.
New from Amazon is the AutoRip-Service, i.e. every Amazon customer who buys or pre-orders a CD or vinyl album will also receive the mp3 version without additional charge.
Album price "Indigo"
: €17.00 plus €2.00 for shipping within Germany. Delivery upon payment.
Sample tracks presented
here
...
Double-album price "Zeitreise"
(time travel): €19.00 plus €2.00 for shipping within Germany. You will find information about the album and its sample tracks on my website
www.blonker.de
.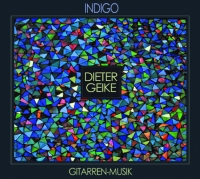 The album "Indigo"
contains 13 new guitar pieces and is now released by
BSC Music
, here you can take a
listen...
The cover picture and all other graphics on the album are sections from my glass mosaic motifs that I am working on in parallel with my music and which also are a great joy to me. Visit my glass mosaic website
www.mosaik-und-licht.de
for further information.